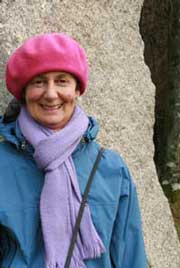 I delight to be living now in Wellington in the North Island of Aotearoa New Zealand.
It is hard to sum up a rich and longish life in a few sentences; perhaps a warp and weft of experiences and passions will suffice.
As a teacher of children, teens and adults I have worked from the root of the word educate – drawing out, and encouraging each one's unique gifts. Another expression of my passion for our unfolding and thriving is the clutter clearing work I've done (and am offering again) assisting people to cull the unnecessary and make more space for the deeply satisfying. And ten years helping to run a community centre was a special opportunity to work as a team-member. Our team brought together people of diverse ethnicity, socio-economic background and age, creating a sense of community and providing activities and learnings as needs surfaced.
Of the many responsibilities and privileges of my life, being a mother is the most important. My heart and mind are never far from my three adult children, two 'extras' and their families.
I love to dance, for self-expression and the delight of being alive and embodied; writing poetry helps me express and share my deepest connection with life; and playing with paint has long thrilled me, especially making cards – there's something special about creating a visual and tactile basis for a written communication.
Death has been a companion along my way, flowing from the personal to the professional. Accompanying people who are dying has been for me a deep honor, as has commemorating and celebrating a life by working with family to create a truly fitting funeral. Four writing projects around the theme of death and dying are due for publication in 2020-21.
Training and qualifications (below) have never interested me for their own sake, but as means to heal, expand and serve they bring much satisfaction; I bow to my many teachers.
As I look back over my adult life, many of the warp-strings could be described as informal, non-religious ministry, or spiritual counseling, mentoring and supervision. But I have just been doing what I love, standing with people of all ages and kinds and slowly learning compassion.
My life is simple and grounded in my home and garden.
The current focus of my work is writing about death and dying, alongside Care of the Soul , my counseling/mentoring work. In this I dialogue with people from a place of fine inner tuning, so that together we can explore the deeper places in them that are seeking to be seen and known.
Qualifications and Training
Working with Higher Frequencies of Consciousness, Advanced Practitioner Training, Stephen Busby, online/UK/USA (2018-19)
Awakening to a Higher Frequency of Love, Stephen Busby, online/UK (2018)
Working With Others Through Higher Consciousness, Stephen Busby, online/UK/Europe (2016)
Australasian Constellation Intensive, Certificate of Training, Australia (2013)
Family & Systems Constellations, Foundation Year Certificate of Training, Angelika Chisholm, NZ (2013-2014)
Restorative Justice, Dominic Barter, UK (2012)
Non-Violent Communication One-Week Intensive, Findhorn Foundation, UK (2011)
Certificate in Celebrant Studies, Auckland University of Technology, NZ (2001)
Death, Dying and Bereavement Course, Ruby Care Foundation, UK (2008)
Soul Midwifery Practitioner Training, Julie Elizabeth White, UK (2009)
7 Words Method, Certificated Practitioner, UK (2008)
Advanced Diploma in Coaching, The Coaching Academy, UK (2004)
Diploma in Teaching, Victoria University, NZ (1972)
Theological study through Ecumenical Institute for Distance Theological Study, NZ (1991-2001)
Associations/Memberships
7 Words Associate / Practitioner
New Zealand Society of Authors http://www.authors.org.nz
021 0832 4224 © margaret mccallum 2020