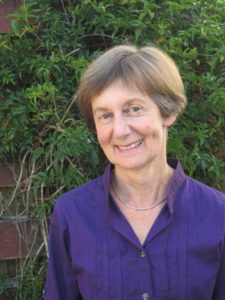 Gathering for a funeral is an important, long-held tradition. We gather for mutual comfort and support, to share stories and memories of the one who has died, and to honour the essence and seasons of that very unique life. Of course some of this happens informally, but it can also be important to formally acknowledge the parting of someone we love, and to share their importance to us all, in the context of a special ceremony, surrounded by those who care not just for the one who has died, but also for us. Grief and loss need to be acknowledged, alongside remembering, gratitude and joy.
As a funeral celebrant I can help facilitate this process, working with the family. A unique and relevant ceremony tends to unfold as we spend time reflecting on possibilities and reminiscing about your loved one. A sense of satisfaction, belonging and meaning come from being involved in creating a funeral. Feelings of grief have somewhere to go.
Whatever the circumstances of the death, a funeral can be positive and healing.
I'm very happy to answer queries or discuss your situation by telephone or email, obligation free.
The poem below captures the honour I feel in this role. It is the final poem on my CD of poems, When Death Comes Close.
On Being a Funeral Celebrant
Here I am, somehow standing in for this person
we have all gathered to honour and farewell.
I have listened to family and friends,
asked questions to elicit the fullest picture,
the roundest sense of the life at the centre of our ritual.
And here I am, holding it all,
the balance of dignity and lightness,
truth and compassion, sorrow and hopefulness.
In the face of death I am alive, fully present,
every cell seeming to take in and give out what is needed.
Who am I serving in this cherished role?
I am serving the deceased,
standing in the midst of her family,
listening on her behalf,
open to the shades and the nuances.
I am serving family members,
each different in relationship and perspective,
each creating their piece of the remembering.
I am serving friends, colleagues,
anyone who needs to mark an ending,
to say goodbye,
to use the efficacy of ceremony
to be with their regretting and their gratitude.
I am serving the professionals –
the funeral director,
crematorium and cemetery staff,
musicians and bearers
by attending to the details
so the process is orderly and timely.
I serve healing,
for a funeral that is fitting and meaningful
and invites participation
sits well in our bones,
and the journey of adjustment can begin.
And over and around all this dwells a larger purpose,
a call, a sense that here amidst death and dying
I am honoured and enabled to serve.
Eulogies / Tributes
I am also open to preparing eulogies / tributes where this is the main concern. Click here to see examples
Charges and area served
Funeral or Memorial Service: $450 (An additional fee may be charged to cover longer, double or more complex ceremonies. This will be discussed.)
I also offer telephone consultationsat $60 per hour for those who wish to create a unique funeral without using me as celebrant.
My travelis charged at 50c per kilometre.
I am based near Mastertonand happy to travel throughout the Wairarapa.
Eulogy/tributepreparation (separate from my taking the funeral) $150-180
The photograph below shows a funeral ceremony taking place at the home of the deceased, and reproduced with kind permission of the family.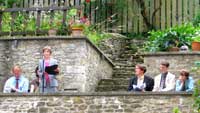 021 0832 4224 © margaret mccallum 2020