$10.00
mp3 of 18 poems
Museday Publications 2010
Listening to these poems is the very best way to receive them. Choose your own order, repeat the ones that touch you most, or do as a friend of mine did and have them appear randomly amidst your music tracks! A great way to become familiar with the wonder and beauty of death.
Written from the poet's experience of death and dying, and conducting funerals, these poems reflect an underlying acceptance of death as part of the cycle of life, to be welcomed in its time rather than feared. With a sense of the soulful and the sacred, they touch upon and honour death without exploiting the intense emotions that accompany it.
Margaret's poetry is informed by assisting people in preparation for death and for funerals, their own or others', and in midwifing the dying. It also springs from her own experiences of death at close quarters.
Description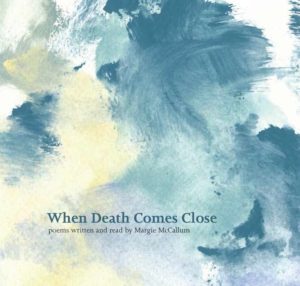 Enter the lives and deaths of ordinary people:
– Carol, who planned her own send-off and 'lined her nephews up to dance the haka'
– old Uncle Bob who persevered with life from a deep sense of duty, and eventually let go and 'walked off into the sunshine';
– the motor accident that brought peace 'upon the grubby wings of death'.
There are poems that arise from pondering life and death: Too Soon Autumn, Practising Dying, Thoughts on Birth and Death, Will You Stand Beside me?
Poems in the midst of death: 'Untimely' Death, Do Not Hurry, Dear Soul, Grief Before Death, A Gentle Journey Home, In My Parents' Grave.
Poems about remembering those who have died: Losing Mooey and Eulogy for Victor and finally the poet's reflections on what it means to be a funeral celebrant.
What others have said:
This evening, Eli and I went to see Selina, and on the way there, I played your CD in the truck. Eli at first started to read-along from the book with you, then he stopped. I asked if he was okay (thinking of how it was for him, losing his mum, but didn't want him to feel too up-set) As he slumped back in the seat, and turned his head away from me and stared out the window. I thought he may have been crying.
Margie you will be amazed to know that he loved it so much. He said, with a sigh…."Aunty, this is real kool, she's good to listen to and I just felt relaxed and sleepy, from her soft voice, she's relaxing me all over".
Noeline, who looks after Eli, 15, since the death of his mother (NZ)
What a heart and guiding light comes through your words. From the minute I opened your package every detail was a visual delight – the colours, the imagery, the packaging concept, the sweet
little book I could take our and hold. I've never seen anything put together like this. I began to read the poems and by the ending of the second I was breathless. I was overwhelmed by the truth, the compassion, the dignity at the heart of your words and deeply knowing I had to have copies to share with friends. And not because immediate dying is part of their lives at this time, but because of the dignity and grace it brings to living.
Cath (Canada)
I have been utterly moved by your beautiful CD. Rarely have I encountered something so 'good'. I use the word advisedly, in its fullest meaning.
This work has an integrity and purity whereby 'good' is the perfect description for it: 'good' meaning the best it can be; 'good' meaning beautiful of soul; 'good' meaning pure; 'good' meaning wholesome and uplifting; 'good' meaning true. I will be delighted to recommend it to anyone and everyone.
Thank you so much for this privilege of hearing your work.
Judith Pidgeon, Transitus (UK)
These are poems that bridge earth and spirit. Luminous and gentle, they both soften loss and honour the strength of its place within our lives, here memory becomes part of the deep intelligence of the heart.
Rose Flint, poet in healthcare (UK)
Thank you once more for the copy of your CD. I curled up on my sofa with a cosy blanket on Sunday afternoon and just listened – it was very moving but also very comforting at the same time. I didn't feel so alone or afraid, just very peaceful.
Jeanie, whose father had recently died (UK)